Hats, Hats, and More Tombstone Hats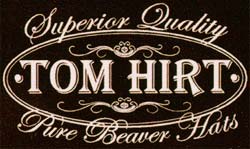 Thanks to Dave Livingston, I now know that Tom Hirt made the hats for most of the cast of Tombstone. I talked with Tom and he is incredibly nice and down to earth. He explained that most of the hats in Tombstone were 50-75% beaver with Kurt Russell's being more due to the flat brim. He said that most of the cowboy hats were 50% beaver as they were considered "working" hats as opposed to "dress" hats.
Tom gave me a rough of $385 for the Ringo hat, minus the stampede strings and hat band. I am kicking myself for having a hat custom made but at the time I didn't know who the original maker was… so now it looks like I will have TWO Ringo hats!!! Tom asks for half the payment up front and half upon completion which seems very fair. If you are interested in a hat from Tom, he is most easily reached via phone.
Tom Hurt Custom Hats
PO Box 209
Penrose, CO 81240
(719) 372-9399
info@tomhirt.com
www.tomhirt.com